Precision Flat Mirrors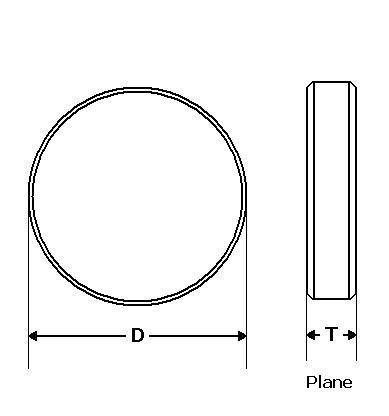 - Material: UV fused silica, BK7
- Clear Aperture: larger than central 85% of the diameter
- 1st Surface: λ/10 @633nm over clear aperture, 10-5 Scratch-Dig
- 2nd Surface: Commercial polish
- Diameter tolerance: +0.000/-0.010" (+0.00/-0.25mm)
- Thickness tolerance: ±0.010" (±0.25mm)
- Wedge: ≤5 arcmin
- Bevel: <0.5mm @45° typical
Spectral Optics provides precision flat mirrors designed to be used as dielectric laser mirrors or metal-coated mirrors. These are an excellent choice for optical path folding applications, various imaging systems, and laser applications.
Please click "Contact Us" for our contact information, "Email Inquiry" for inquiring the details about the items on this page via email, or "Request for Quote" for requesting more items not only listed on the page.
Windows

Diameter (D)

Thickness (T)

Material

Part Number

Price ($ USD)

0.5" (12.7mm)
1/4" (6.35mm)
Fused silica
PM0525-FS
$45
BK7
PM0525-BK
$37
0.75" (19.1mm)
Fused silica
PM0725-FS
$55
BK7
PM0725-BK
$41
1.0" (25.4mm)
1/4" (6.35mm)
or
3/8" (9.53mm)
Fused silica
PM1025-FS
$65
PM1037-FS
BK7
PM1025-BK
$50
PM1037-BK
1.5" (38.1mm)
Fused silica
PM1525-FS
$90
PM1537-FS
BK7
PM1525-BK
$66
PM1537-BK
2.0" (50.8mm)
Fused silica
PM2025-FS
$110
PM2037-FS
BK7
PM2025-BK
$87
PM2037-BK
3.0" (76.2mm)
1/2" (12.7mm)
Fused silica
PM3050-FS
$280
BK7
PM3050-BK
$220
4.0" (101.6mm)
Fused silica
PM4050-FS
$395
BK7
PM4050-BK
$340
NOTE:
1. Usually 0.5 - 2.0" diameter substrates are in stock. Please check the delivery for the larger substrates with us. It usually takes ~3-5 weeks if we don't have any in stock.
2. Some other sizes and/or thicknesses may be available. Please contact us for other custom size windows.
3. Please refer to the coating service section for the detailed coating specs available.